About Us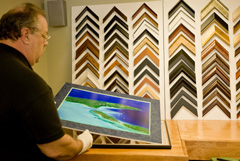 Custom Framing to You has been in the works for several years trying to figure out what the consumer would want in the framing and art business. The recent years of recessions and slow economic growth have contributed to the solution.
We created the idea of bringing the framing gallery to the consumer. In this more personal one-on-one manner the consultant can coordinate the colors with the art and the interior and décor of the room so the framed piece will look beautiful in the room. With the ability to see the samples in your own home there are more opportunities for the mouldings and mat colors that you might not think would work.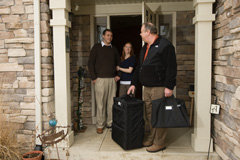 We work from a fully equipped workshop utilizing state-of-the-art framing equipment and pride ourselves on a high level of quality and service, including the ability to handle urgent requirements should you require quality frames in a hurry.
We operate a personal service where we come to your home or business with a large range of samples for you to select from and deliver the frames back within an agreed timescale, all at no extra cost to you. We can also furnish installation services, which are complimentary on certain orders.
The principal owner of Custom Framing To You, Paul M. Allen, an experienced framer, has been framing for many years and recently has completed the professional and advanced continuing education courses at the American Picture Framing Academy.
Frame and Artwork Websites: